Expanding Possibilities.
MAX HRM provides full-scale human resource solutions between Europe and China. With an extensive network of working professionals and being familiar with both Chinese and European labour markets, MAX aims to connect international talents with the demand of Chinese and European companies.
With offices in The Netherlands, England, Sweden and France we  provide the best service to local and international clients.
The services include recruitment ( Headhunting for C & D – level positions, experts in various fields, and multilingual talents), HR consultancy ( HR Due diligence, HR integration process after M&A's), Personnel Outsourcing, Training and Personnel Development.
With the strong support of its resources and partners, MAX HRM aims to consult the complete HR services to our clients. The ultimate goal of MAX HRM is to support our clients to achieve Human Resources optimization.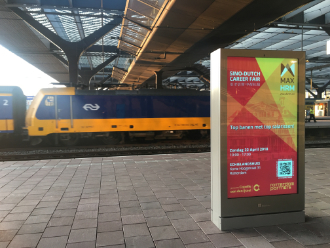 2019年10月26日下午,2019荷兰儒商论坛暨荷兰山东商会首届理事会就职典礼在阿姆斯特丹隆重举行。山东省工商联常务副主席周云平率山东民营企业家访问团应邀出席。全荷华人社团联合会主席季增斌、全荷华人社团联合会执行主席黄麒麟……….
MAX HRM looks back on successful trade mission to China This june Rotterdam and Shanghai celebrate their 40th sister city anniversary. A time for Rotterdam to reflect on what we have achieved, but also a great opportunity to deepen and broaden the relations. During...