Expanding Possibilities.
MAX HRM provides full-scale human resource solutions between Europe and China. With an extensive network of working professionals and being familiar with both Chinese and European labour markets, MAX aims to connect international talents with the demand of Chinese and European companies.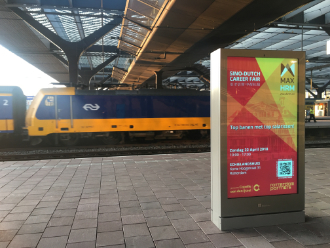 Not every organization has dedicated human resource professionals, or the capacity within their team, to meet all their HR needs. Our team can assist by helping you align your human resources with your organizational strategy to drive performance and achieve your goals. Our approach provides you with the expertise you need, when you need it.
From large organizations to small start-ups, we tailor our process and delivery to meet your specific needs. We work closely with you to determine your needs and support you with solutions that offer peace of mind, allowing you to focus on managing and growing your business.
MAX HRM provides organizations with strategic human resource leadership and advice through short term, longer term or "on-call" support.
As Human resource management we develop, advise on and implement policies relating to the effective use of personnel within your organization.
Our aim is to ensure that your organization employs are the right balance of staff in terms of skills.
As HR management we can be involved in a range of activities required by organizations, whatever the size or type of business.
Offline & online recruitment services;
Local & overseas recruitment events;
Executive search for C & D – level positions;
Partial and full service of human resource operations: including policy making, employment contracts, insurance, payroll inputs, sick leave management, dismissal mediating, background check and post M&A integration;
Individual training courses: Hard & soft skills, Interview training, and personal career development coaching.
Company training programs: personnel skills program, leadership development, and diversity training.
2023年8月8日下午14:00SGET世智人力携手广东省人力资源研究会、荷兰力马人力资源管理公司及RSM全球第六大审计税务公司采用线上线下共同开启的方式共同为中资企业出海欧洲带来最新政策分享。...
Duurzaamheid is in de huidige geglobaliseerde wereld al gauw een belangrijk thema. Iedereen zoekt voortdurend naar betere methodes om duurzaamheid te verbeteren. Dit essentiële duurzaamheidsstreven en de uitdagingen gevormd door culturele verschillen hebben...