Expanding Possibilities.
MAX HRM provides full-scale human resource solutions between Europe and China. With an extensive network of working professionals and being familiar with both Chinese and European labour markets, MAX aims to connect international talents with the demand of Chinese and European companies.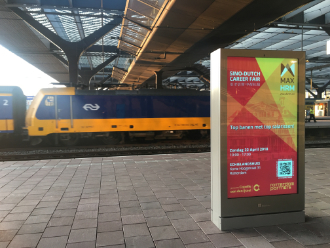 Not every organization has dedicated human resource professionals, or the capacity within their team, to meet all their HR needs. Our team can assist by helping you align your human resources with your organizational strategy to drive performance and achieve your goals. Our approach provides you with the expertise you need, when you need it.
From large organizations to small start-ups, we tailor our process and delivery to meet your specific needs. We work closely with you to determine your needs and support you with solutions that offer peace of mind, allowing you to focus on managing and growing your business.
MAX HRM provides organizations with strategic human resource leadership and advice through short term, longer term or "on-call" support.
As Human resource management we develop, advise on and implement policies relating to the effective use of personnel within your organization.
Our aim is to ensure that your organization employs are the right balance of staff in terms of skills.
As HR management we can be involved in a range of activities required by organizations, whatever the size or type of business.
Offline & online recruitment services;
Local & overseas recruitment events;
Executive search for C & D – level positions;
Partial and full service of human resource operations: including policy making, employment contracts, insurance, payroll inputs, sick leave management, dismissal mediating, background check and post M&A integration;
Individual training courses: Hard & soft skills, Interview training, and personal career development coaching.
Company training programs: personnel skills program, leadership development, and diversity training.
MAX HRM sponsored event, the Royal IGC China Tafel celebration of the Moon Festival and the 50th anniversary of diplomatic relations between the Netherlands & China, was a big success!  The keynote speakers were Mr. TAN Jian, Chinese Ambassador to the Netherlands,...
Free register via: servus.sbe@vu.nl for the 'We Shall Overcome' Servant-Leadership Symposium on Monday 17 May 2022, 11:00-13:00 hrs at Vrije Universiteit Amsterdam. This online symposium 'We Shall Overcome' is on the 21th symposium in an annual series, a meeting place...